At Lansdale Auto Group, we're proud to announce that the 2018 All Mopar Show is taking place on Sunday, June 24, 2018, from 9am to 3pm! Presented by Lansdale Auto Group and Miss Mopar, this is a fun, family-friendly event dedicated to showing off everything Mopar!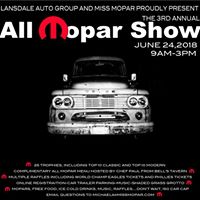 Enjoy cold drinks and an "All Mopar Menu" that's prepared by Chef Paul from Bells Tavern, all free of charge, as you enjoy the gathering and the friendly competition! Here are some of the highlights of the day:
25 trophies to be awarded, including Top 10 Classic and Top 10 Modern
Raffle prizes include World Champion Eagles tickets and Phillies Tickets
Music
With a limit of only 150 entrants, we strongly encourage interested parties to sign up via our Registration page if they want to bring their Mopar to the party. We have car trailer parking and a shaded grass grotto available, so there's no reason to leave your beauty at home!
Just a word of warning, pre-registration ends Sunday, June 17; after that, the price increases by $5. 100 percent of the proceeds from this event will go to the CARing for Kids Foundation, which provides new winter coats for needy local children.
The 3rd Annual All Mopar Show takes place at our Lansdale Auto Group location in Montgomeryville, PA. For more up-to-date information, follow the event's Facebook page.